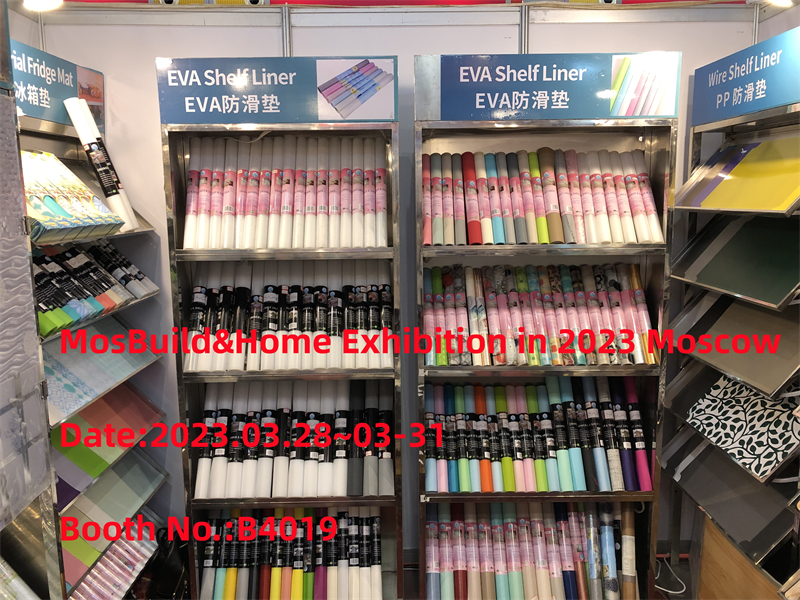 Mos Build & Home Exhibition in 2023
Date:2023.03.28~03-31
Booth No.:B4019
Add: Mezhdunarodnaya str. 16, 18, 20, Krasnogorsk, Krasnogorsk area, Moscow region Russia
Welcome you all friends to visit our booth no. in March 2023.
In this exhibition you will see many of shelf liner products for household.
There are EVA Shelf Liner, PEVA Shelf Liner, PO Shelf Liner, colorful Anti-slip mat and printing anti slip mat.
These Shelf Liner Popular size will be as below:
Product Name
Shelf Liner/Drawer Mat/ Cupboard Inlay Mat/Anti-slip Mat
Material
EVA/POE/PEVA/PE/PP/PO/PS
Popular Size
45X150CM
50X150CM
45X1000CM
35X200CM
Temperature resistacne
+B960°C/-60°C
Capacity
650tons/month
MOQ
3000PCS
OEM
OEM is available
Appliacation
Keep surface from scraching and add grips
EVA shelf liner advantage is the super clear and softness, a good anti-slip function. POE material will be same same function,too. But POE is more expensive than EVA shelf liner at present.
Rongxin will show some new design in rainbow reflecting shelf liner. This is totally brand new developing for this mat using.
The feature is that the surface can reflect the rainbow color, with the unique design, it will be make house decoration in beautiful.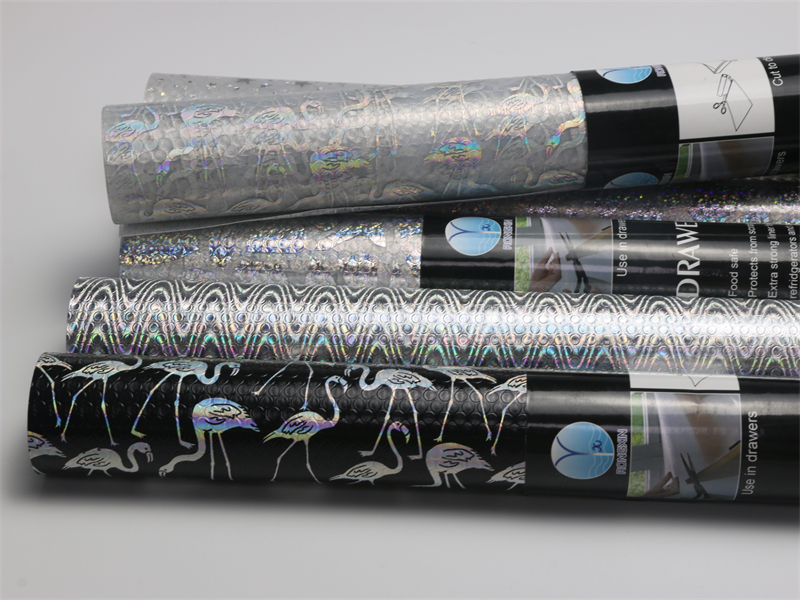 In considerate the plastic bag banned rule, we are going to expand GRS standard shelf liner for the market. But the moment we use recycled material in PE and PP.
If you need TC certificate or GRS logo to print on the pack, it normally need 25days to apply from the authority agent.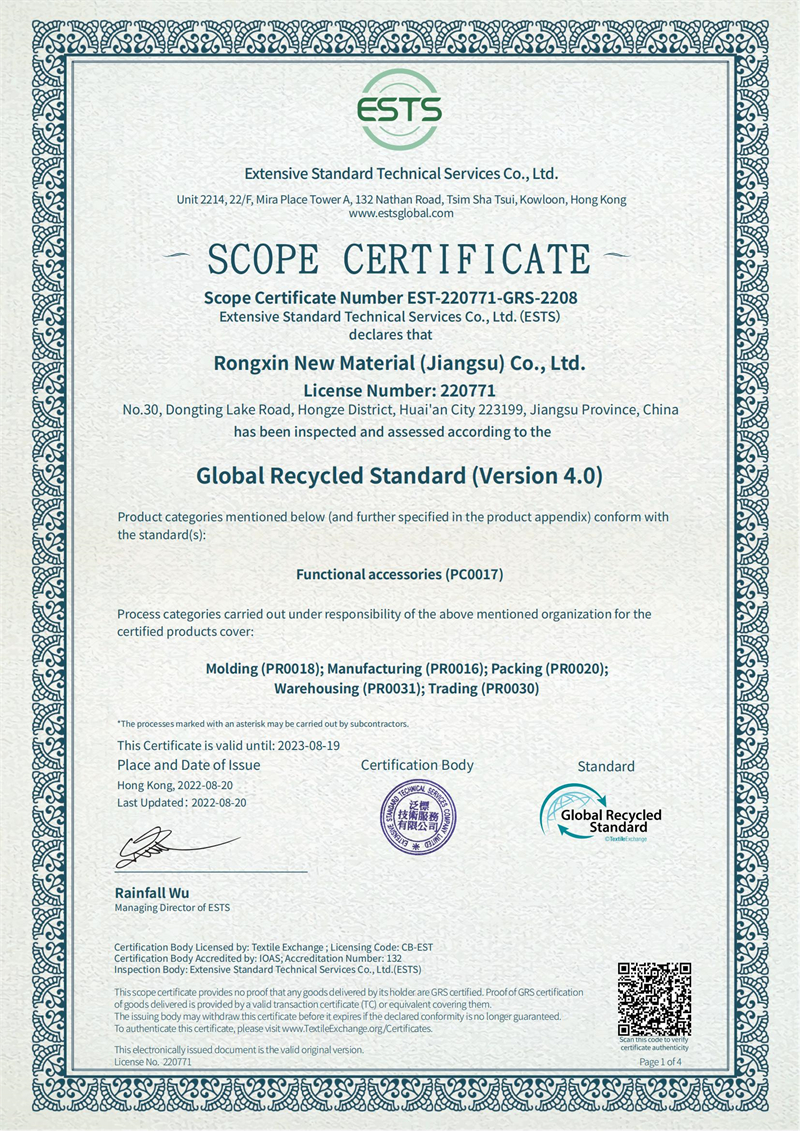 Beside this shelf liner, there is another popular product named disposable cutting board  which best selling in Japan in 2021. It is popular not only Japanese market but also Korea. If you want there is no mess in the kitchen and make safety for family, it is a good choice.
This product is BPA free and food grade passed. The special packing color box is insert with slider cutter, customer can cut simply and with many piece they desired. The importance is that cut raw meat and vegetable separately  it can
avoid the cross-contamination. That is why will keep us in more safety.
You know you kitchen cutting board surface will avoid from the dirty after cut. No mess and easy to enjoy the kitchen and cooking time.  This disposable cutting board is upgrade this year into antibacterial cutting board sheet and anti-slip back side of the cutting board sheet.  Now some customer try the printing cutting board sheet mat. Would you like to try ? You will love it.
 Popular size as below:
Product Name
Cutting Board Sheet
Material
POE
Popular Size
24x300cm
24x500cm
24x980cm
30x300cm
30x762cm
30x980cm
Temperature resistacne
100°C
Patent No.
ZL 2021 3 0071130.5
ZL 2021 3 0071121.6
Cutting baord capacity
1000000 pcs/m
MOQ
3000PCS
OEM
OEM is available
Appliacation
Convenient for kitchen, there is no mess on your cutting board.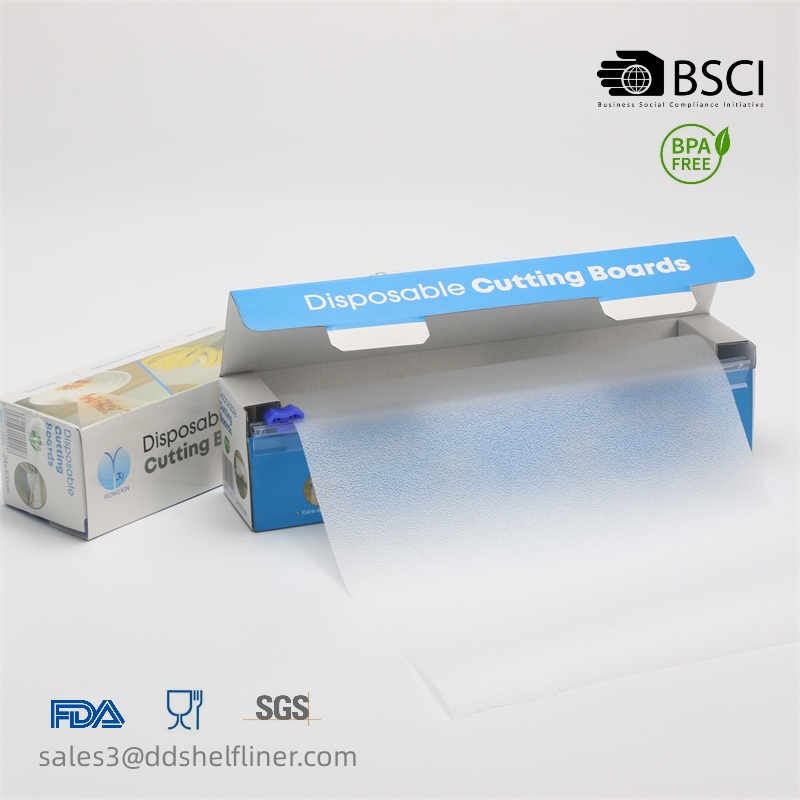 ---
Post time: 02-25-2023